How to Buy a Shipping Container: Step By Step Guide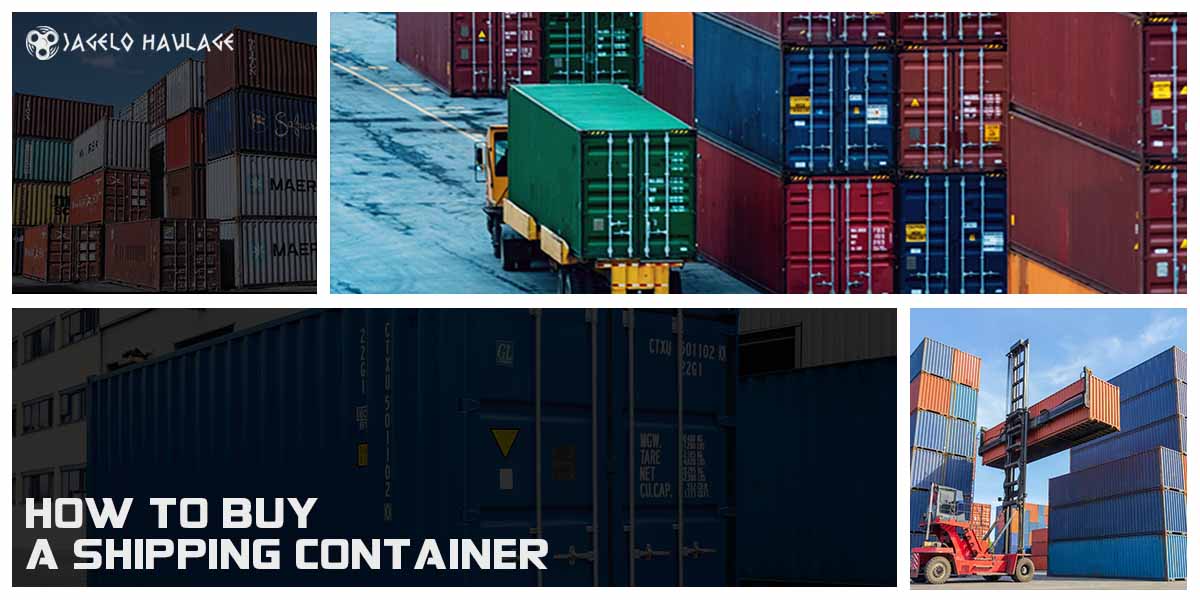 Thinking of investing in a shipping container? Fantastic decision. Shipping containers are massively beneficial for businesses to store, ship, and build offices to tackle shorter projects. They power your business by providing much more value than the actual cost spent on them.
And not only for businesses, if you're to build your dream house with them, you can save a noticeable amount of money. Unlike traditional brick-and-mortar houses, container houses save you time, labor costs, material costs — and best of all, they look heavenly.  
So, today, we're going to discuss how to buy a shipping container the right way, to help you make a profitable decision. We'll discuss all the ins and outs step-by-step, keeping it short and simple.
So, without talking much, let's get into it.
How to Buy a Shipping Container: Follow these 4 Simple Steps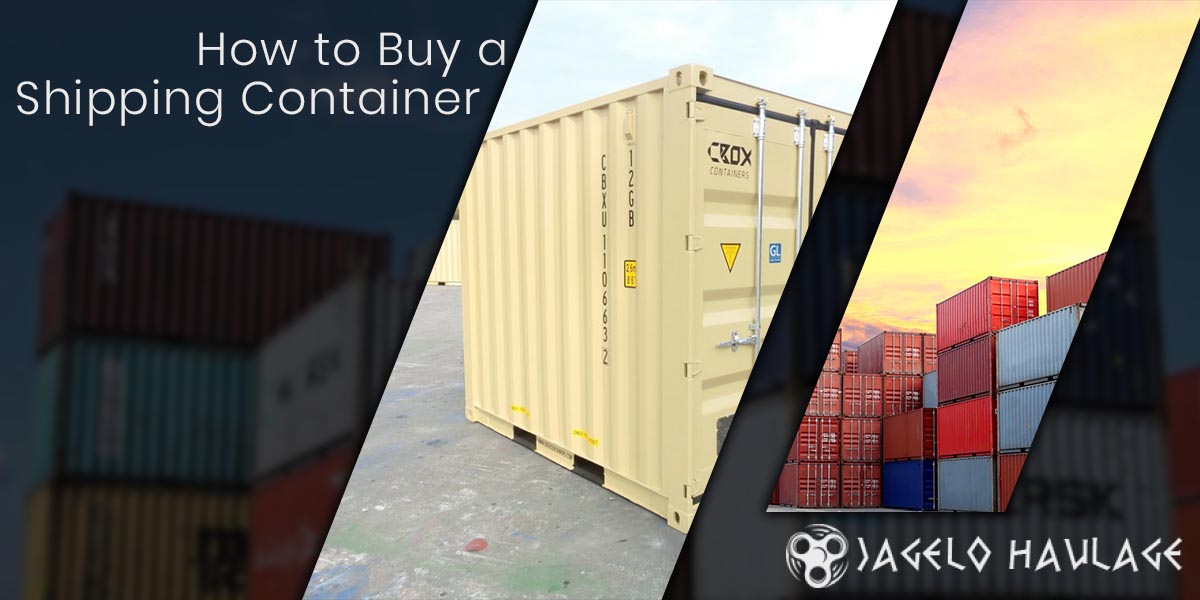 Here are the factors you should keep in mind to cut prices and buy the container that you 'actually' need right now.
As container haulage services providers, we understand the frustration of not being able to find the right way and the right company to get help from.
But, don't panic. We'll help you get through this.
Keep reading to find out how you can buy a shipping container without breaking your bank.
What size container do you need?
As you're probably aware, shipping containers come in various specifications — ranging from 8' to all the way up to 53'. Most containers built are 20ft, 40ft, 40ft high-cube, and 45ft high-cube. HC containers are one feet taller than the traditional one.
But, keep in mind, each size is built for coping with different needs, and has max load capacity set by ISO.
For example, different size containers are for different loads. Or, for various different types of goods to store or ship. Not hard math, right?
| | | | | |
| --- | --- | --- | --- | --- |
| Storage Cap. for | 20ft | 40ft | 40ft HC | 45ft HC |
| House | 2-3 bedrooms | 3 bedrooms | 3+ bedrooms | 4 bedrooms |
| Compact Cars | 2 | 4 | 4 | 4 |
| 50kg Cement Bags | 950 by volume 560 by weight   | 1,935 by volume 575 by weight   | 2,160 by volume 570 by weight   | 2,470 by volume 545 by weight   |
| 94LB Cement Bags | 1,160 by volume 660 by weight   | 2,380 by volume 675 by weight   | 2,650 by volume 670 by weight   | 3,040 by volume 640 by weight   |
20′ containers are easy to move using regular lifters that can load up to 2300kg or 5000lb.
You'll need a powerful heavy-duty forklift, crane, or stacker to move a 40ft container.
What Container Grade Do You Need?
Choosing a grade basically means in what condition do you want your container to be?
Do you want a brand new manufactured and shipped to you?
Or, will a used one be okay?
Here's what the grades are:
WWT: Also known as Wind and Water Tight, are used containers, but they come in decent condition.
Certified: They are used overseas for shipping purposes, but they come in really fine situations, even better than WWT.
As-is: They're old, rusty, and abused because of long use. There might be holes in them. Or, even worse, the doors might not seal properly.
New: Manufactured from the company, they'll be handed over to you directly.
What grade you choose, will directly affect the price. 
Decide Delivery Truck & Delivery Location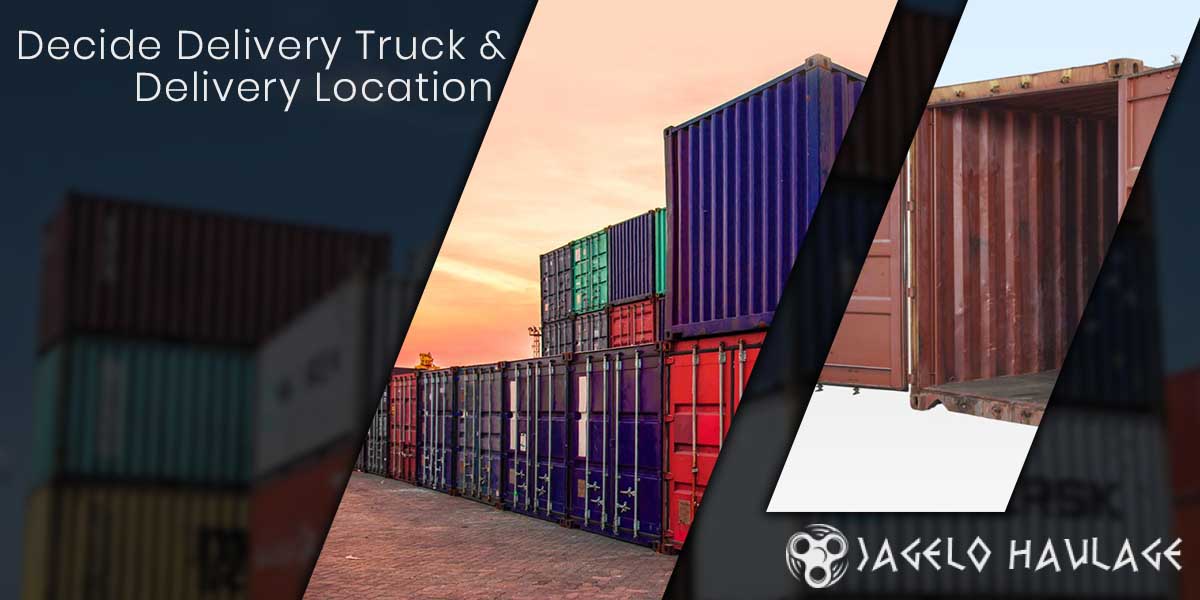 There are three truck types you can choose from for the delivery.
And before you order for delivery, make sure you've a special place assigned where your container will be dropped. The location should have enough clearance for a giant truck to move, and even a crane.
Here's what each truck type is for:
Flatbed Trailer: If you have or if you can afford a forklift suitable for your sized container, then this trailer is best for you. All you have to do is to unload the container from the flatbed when the truck driver arrives at your desired location. This might save you some money.
Flatbed Tilt Trailer: Most commonly used way because it saves you time and money. When the trailer arrives at your desired location, it automatically tilts its bed, sliding the container down.
Trailer with Crane or a Hijack Truck: As the name suggests, it comes with an integrated crane on its body. It exactly drops the container where you need to. Great option if you're building a house. But, this one is expensive compared to the other two trucks.
final Step: Get Shipping Container
It's hard to decide which company to prefer online because of various marketplaces, and their different offers and prices.
But, if you're looking for something under-budget — plus, with decent quality, give a call to JHaulage.
We provide container haulage services in flexistowe, and all across Europe.
We'll help you get exactly what you need by narrowing down your options, needs, wants, and ofcourse, the budget.
We don't just sell any random container to you — we want to help you with what you exactly need.
Get a free quote from us or even discuss in detail your needs. We'll help you find your way out.
On top of that, we include delivery services as well to save you the hassle of finding a perfect delivery company.
In the end, we hope our guide on how to purchase a shipping container has been helpful for you.