How Much is a Storage Container in 2021? (Should You Even Buy One)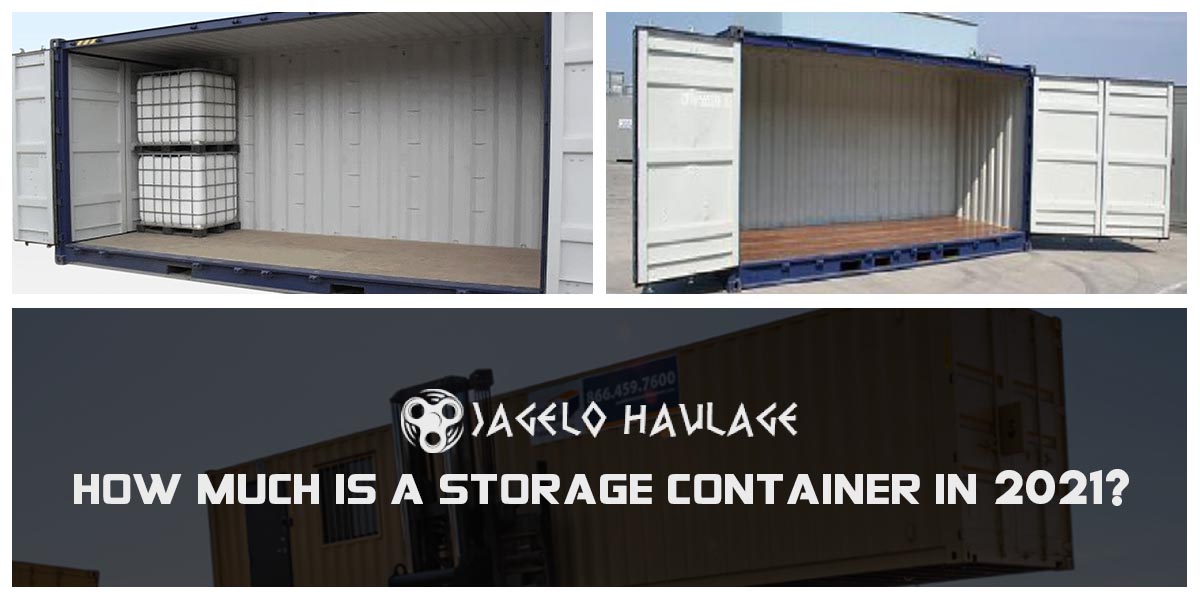 If your business is expanding potentially, and you need a portable solution for storage, getting your hands on a storage container is definitely a right choice. A lot of businesses, at some point, purchase storage containers to store their items or to shift their offices.
And like everything, how much is a storage container to buy, depends upon a lot of factors, which we'll discuss below right now. But as an estimate, you can expect shipping containers to be at somewhere from $1500 to $5000, both new and old.
Most prefer used containers, but some may also desire to buy a new one because they may be building a new house or office, and they need that aesthetic look. Building a new house on containers is a much cheaper solution than going the traditional brick-and-mortar way.
Anyways, whatever your needs are, keep those in mind, and read below what are the factors and how they can affect the price range.
Going for the right choice will save you good money.
Here goes…
Factors that Affect the Price Point
Here are some of the factors that decide the price point. Understand, and go through each of them because they're all interconnected.
Read below.
Condition
This is the first and foremost important factor. The condition of the container haulage services basically decides the price range. If the condition is new, and the container is rarely used, even if it's second-hand, the prices will still be higher.
But if it's decades old, has been badly used, rusty on the surface, and needs some fixing, you can expect as little as $1500 for a 20ft container. Again, if it's in good condition, even if it's used, the price should be somewhere between $2500 to $3000.
Size
After condition, comes the factor of size: the bigger the size of the container, the bigger the transaction will be. Typically, a standard 20ft container can cost you between $1500 to $1800, if it's used and it's in good condition. And a regular 40 feet container can cost you between $3,500 to $4,000.
But bear in mind, size isn't the only factor deciding the price. Everything goes along.
Customization
This factor adds a couple of extra hundred dollars in the cost because the container may have windows installed for ventilation, refrigerator for cooling, or advanced locking system for security. Basically, if your container is customized, consequently, the prices will be higher. And if you don't require customization, simply buy a simple one to save money.
Geographical Location
Geographical location is a price factor as container prices can vary from country to country. If it's in the US, it's probably more pricey, and if it's in Asia, it may be less expensive. And, also, geographical location adds to the delivery cost. How long the shipping container has to travel to your destination directly affects the price.
The cost of the delivery will be added into the original cost. So better buy in your own state, and save some money.
Okay So What Should be Your Next Move?
Well, your next move depends upon one single question: Why do you need a storage container?
Most people don't go for buying a new one because that adds up to a lot of costs and they certainly don't want to invest so much money. But some may desire to buy a new one because they may be building a new house, so they'll make sure everything is new and looks beautiful.
Whatever your desire is, please keep in mind that a shipping container is just not a box of metal. It's more than that. It saves your goods, it saves your business, it saves your money. And if you're buying it for your house, it will be there for the rest of your life.
So, it's extremely important to choose a perfect shipping container.
And if you have decided to buy or you're still confused about what should be your next move, give a call to JHaulage. Whether you need container haulage in Felixstowe or in the other corner of Europe, JHaulage is here to help.
We're a new company run by a team of passionate people. We will help you get your hands on the perfect piece.
Click here to get a FREE quote right now. Happy shipping!