What Are Container Haulage Services All About?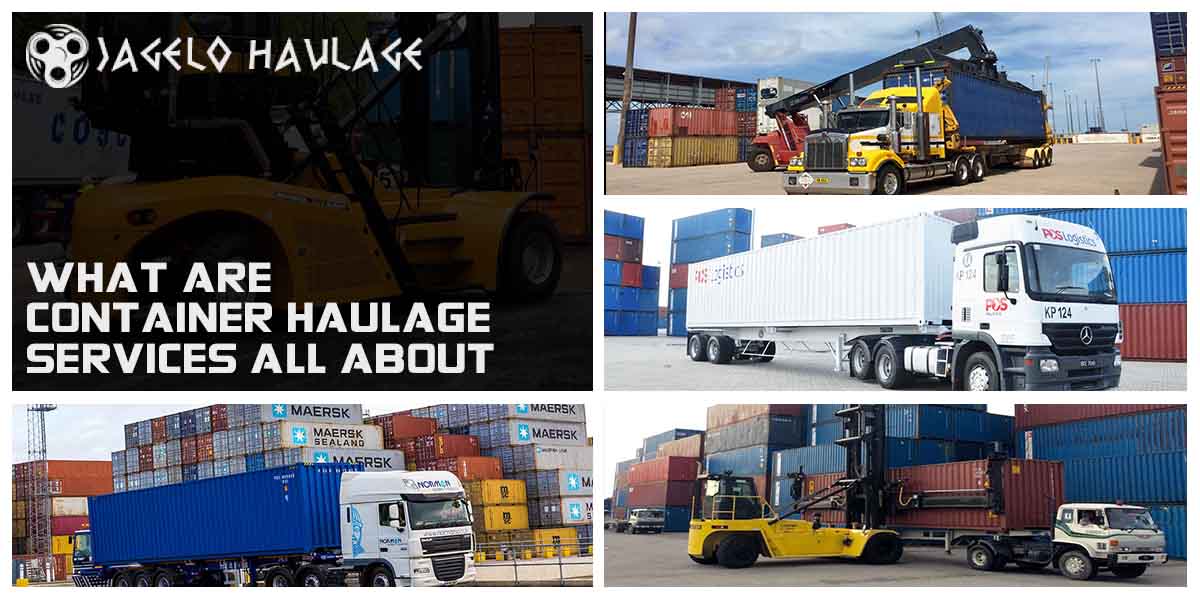 Container haulage is a prominent service that logistics companies provide. It basically means hauling and transporting products from one point to another. These services play a big role in national plus international trading of goods. Although container haulage services only cater to transferring goods through roads and railways, mostly commuting through road networks.
These companies and services are what help picking up the imports and exports and bringing them to the ports from where trades on an international level are carried out.
Haulage companies and services participate hugely to a state's economy. These companies work under proper licensing issued from the government of a state and are equipped with proper vehicles and well-trained staff. Commuting with trading goods and delivering them safely within the designated time frame is the top priority of these companies and services.
The haulage companies provide their services to many sectors and industries. Be it the food industry, the healthcare industry, the industrial sector, the agricultural sector or the automobile industry. The products being transferred can range from food and medicinal items to chemicals or machinery to heavy haulage loads like boats and cars. These products and goods can be either locally manufactured or imported from other countries.
To understand container haulage in felixstowe better, read on to the following passages describing the haulage companies services in a better and more extensive way.
Must Read Our Informational Article: CHARACTERISTICS OF CONTAINER DELIVERY FROM ONE PLACE TO ANOTHER.
Services Provided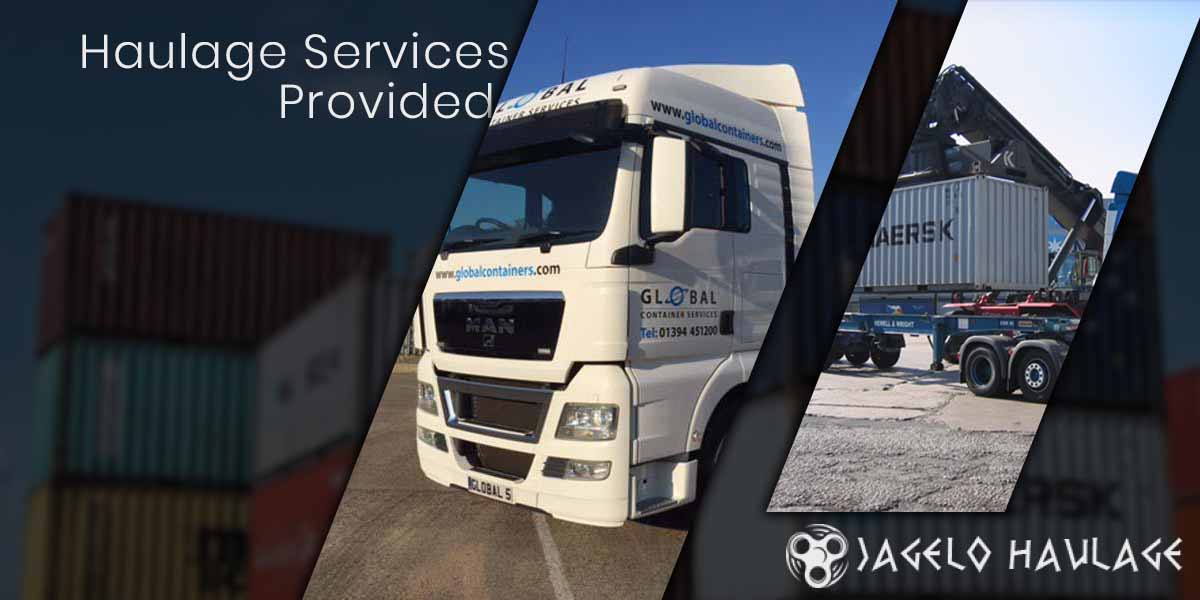 As we have already covered, haulage services are used to transport all kinds of products across the country through designated road routes. Like the products come from many different categories and sectors, the haulage also includes a range of services. These services have been distributed into various categories for your better understanding.
General Haulage
General services among haulage companies can include the transportation of many different types of products and goods like food items, furniture, electrical supplies, medical equipment or home entertainment supplies. These products are hauled into the containers in the trailer of the haulage vehicle in order to be transported. The containers are sealed and compliant with the safety requirement in accordance with the products set to be transferred. The staff is well-trained to handle the haulage and drop off to make sure the products do not suffer any damage during the process.
Depending on the quantity and state of the products to be transported, the company can provide any number of vehicles in any size and form according to the preferences of the customer. It can only be one vehicle or a number of them going up to a dozen. Once loaded and moving, These haulage vehicles will operate at designated lower speeds in order to keep the goods undamaged and safe.
Hazardous Substances Transportation
The chemicals and substances transported for the industrial sector and factories sometimes can be dangerous. These hazardous substances can include stuff like flammable liquids or gases, explosive weapons, toxic airborne materials or radioactive fertilizers, etc. Haulage companies need to obtain special legalized certificates to be able to transfer such dangerous substances. Some companies may have the permission license to transport only some of them, while some companies may be eligible to carry all of these.
The staff in the warehouse and the haulage and drop off employees are carefully trained, responsible people well equipped to deal with these substances and any potential disaster they might cause. Specialized low-risk vehicles are used by haulage companies to transport such substances.
Machinery Transportation
This can include anything from vacuum cleaners and lawn mowers to shovels, road rollers and excavators. Vehicles need to be specially designed to carry this machinery equipment so that the products do not end up becoming damaged and faulty. These products can include anything from minor machines used in households to big machinery equipment used in the industrial sector.
Container haulage services tending to the transport of such products also need properly trained staff who can handle the machinery with care without causing harm to the vehicle, the surroundings and themselves.
Heavy Haulage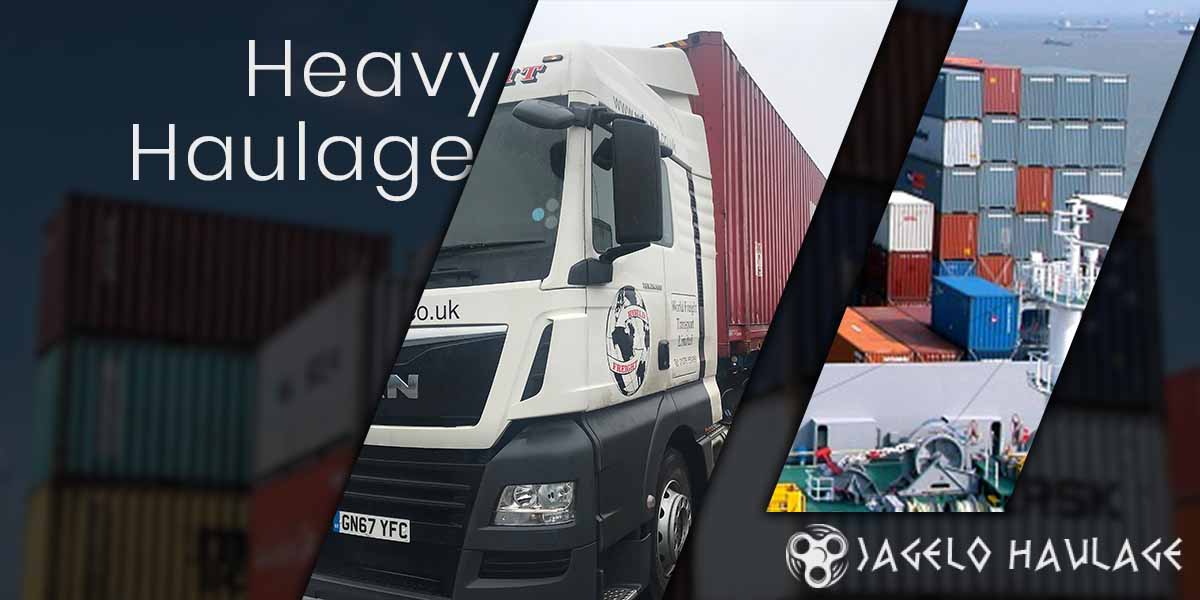 Benefits of Haulage services are carried out in order to transport heavy duty equipment between two points. The vehicles are designed with various weight-lifting capacities and strength levels. Customers can choose whichever suits their requirements best according to the size and weight of their products. The products transported in this category can consist of various equipment used in the agriculture and construction industries for example tractors or cranes etc. Big cars or cruise boats are also often transported in this manner.
Vehicles carrying such heavy duty equipment are also obligated to observe specific speed limits in order to avoid any disastrous crashes or accidents.
Disposal Of Waste
The primary objective of haulage companies might be the transferring and delivery of all kinds of goods. But the haulage vehicles can also be used in order to dispose of big amounts of waste materials. These vehicles come with drainage equipment and proper containers able to collect and dispose of liquid waste materials too.
The haulage companies that offer this service make sure to dispose of waste materials in a proper, legal and safe form preventing them from polluting the environment.
Package Delivery
Some haulage vehicles can be used by big companies like Amazon etc to deliver their packages in bulk. Or the retail stores can hire these vehicles to pick up their products from those big companies' warehouses when they buy things in bulks for their stores.
Vehicle Haulage
This type of service is mainly consumed by automobiles companies when they have a number of cars or motorbikes or other vehicles brought in from other countries. But individual customers can avail of this service too when they have had a vehicle bought in a foreign country shipped through the sea. They can use the haulage service to have their vehicle picked up from the port.
Locally, these services can come in handy if you need to transport a vehicle while moving house or when you need a newly bought vehicle delivered to home that you do not have the time to drive yourself.
Fragile Equipment Transport
Container haulage services aren't only meant for hauling, transporting and delivering heavy and huge machinery or industrial equipment. These companies and vehicles are also experts in handling fragile objects like digital equipment, LED screens, PCs, laptops or other things like refrigerators and microwaves etc.
Livestock Transportation
Haulage companies also sometimes provide the facility to transport livestock. The vehicles used for this purpose include feeding facilities for the animals and waste removal systems. The industries or businesses that avail the livestock transportation facilities include farmhouses, pet markets and slaughterhouses, etc.